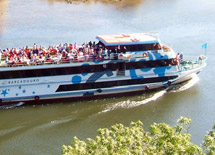 Barcadouro: Cruises on the River Douro
Barcadouro was founded in 1996 and commenced activity as a river operator providing daily cruises throughout the River Douro. Initially with the ship "Senhora do Douro", followed by "Infanta" and "Pirata Azul". On board, a team of professionals are ready to serve our Clients ensuring the utmost quality of services provided.
With the objective of promoting and sharing with our Clients both the river and the Douro region, Barcadouro has designed a range of standard cruises and is also prepared, together with its Clients, to develop personalised cruises.
Phone: +351 223 722 415
E-Mail: geral@barcadouro.pt / reservas@barcadouro.pt
Web: www.barcadouro.pt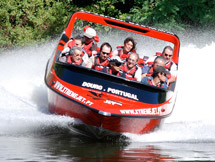 XtremeJet
Jet BoatJet boating came into being through the inventive genius of New Zealand CWF (Bill) Hamilton, who was looking for a means of boating on the swift, shallow rivers of the South Island high country where he farmed. Bill Hamilton developed the concept of the jet boat when he ruled out as impractical the use of a conventional external propeller and instead devised the revolutionary internal impeller which provided through its design both propulsion and maneuverability.
Phone: +351 933 910 517
E-Mail: oporto@xtremejet.pt
Web: www.xtremejet.pt